Blackburn Labs: Celebrated as a Top Software Developer in Rhode Island for 2023
It brings us immense joy to announce that Blackburn Labs has been recognized by Clutch as a Top Software Developer in the state of Rhode Island for 2023. While our reach and impact span across various regions, there's a special place in our hearts for the Ocean State. Our roots here run deep, and we're incredibly proud of the success and impact of our applications developed in collaboration with our Rhode Island partners.
Our journey in Rhode Island has been marked by several innovative and transformative projects. One such initiative is Onward We Learn, a testament to our commitment to fostering education and learning. Similarly, our Home Value App and My Body Gallery projects showcase our versatility in addressing diverse challenges and creating solutions that resonate with users.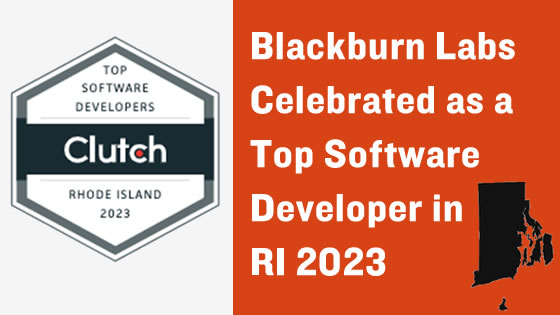 Two of our standout projects in Rhode Island, PRCRI and Spoonie Day, have achieved a significant milestone, boasting over 10,000 users! This achievement is a testament to our dedication, expertise, and the trust our partners place in us.
If you're curious about who recognized our efforts and want to see firsthand the glowing testimonials from our partners, check out our profile on Clutch.
We're incredibly proud of our Rhode Island heritage and the collaborations that have stemmed from it. As we celebrate this recognition, we're also reminded of the responsibility we carry – to continue delivering excellence and making a positive impact in the communities we serve.
To our partners, collaborators, and the entire Rhode Island community, thank you for your trust and support. Here's to many more years of innovation, collaboration, and success!