PBN Five Questions With Robert Blackburn
It's always great to see Blackburn Labs in the news. When our applications get featured in news segments, like the app for Brigham & Women's Hospital was, it is very exciting and validating of our hard work. This time, not only was our work discussed in the news, our owner, Robert Blackburn, was interviewed by Providence Business News.

It was great working with Susan Shalhoub who asked some very interesting and engaging questions. We want to thank her and PBN for this opportunity to talk about our experiences and some of the trends we see with technology.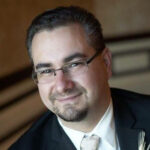 I find that it's a common mistake to think a software project is a single big effort to deliver a product. The truth is, the most important thing for any software project, be it for a small startup or a Fortune 500 company, is to set your sights on small deliverables and adjust as you learn.
[read more]

Robert Blackburn
CEO Blackburn Labs