No Code, No Problem: Devless Empowers Small Businesses to Build Custom Apps
When technology is playing an increasingly important role in business success, Blackburn Labs is leading the way in helping small businesses and organizations level the playing field. Devless, our innovative app development platform highlighted by the business journal Rhode Island Inno, is a prime example of how we give back to the community and make technology accessible for everyone.
In the early years of business, our Chief Technology Officer, Robert Blackburn, encountered many clients with limited resources or who just needed a simple app. To serve this market, he got busy building Devless as an affordable, 100% developerless solution allowing anyone to create custom apps easily. As a result, Devless now boasts an intuitive interface, impressive features, and flexible pricing, making it the best among no-code app builders.
Devless's approach goes beyond the traditional boundaries of app creation, making it different and attractive. Users can avoid endless hours designing, managing a database, and programming functionality. Instead, its simplicity fast-tracks app development to get business apps to market quickly.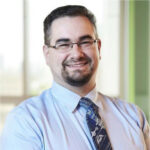 "We wanted to provide a solution to those clients for which it didn't make sense to contract a software development agency like ours to build a ground-up solution," he said. "A number of users have found it helpful already, including a few healthcare organizations and the local non-profit organization, PRCRI."

Rob Blackburn
Chief Technology Officer (CTO), Co-Owner
Whether you need an app as an internal business tool or to serve your customers, we encourage you to see what it can do for your business. So schedule a demo or sign up for a free Devless app to start today.