Julie Blackburn of Blackburn Labs Featured in Health Central Article
We are thrilled to share that Julie Blackburn, our Chief Data Science Officer and the creative mind behind the Spoonie Day App, has been prominently featured in an article by Health Central. This esteemed publication, known for its dedication to providing resources for the chronically ill, spotlighted Julie as a subject matter expert, underscoring her commitment to supporting those with chronic conditions.
The article delves into Julie's journey as a data scientist and her personal experience with MS. Faced with the challenges of managing her energy during MS flares, Julie took matters into her own hands, creating the Spoonie Day App. As she poignantly states in the article, "I always wonder during them: 'How am I going to get through this?' And this has been a really useful tool."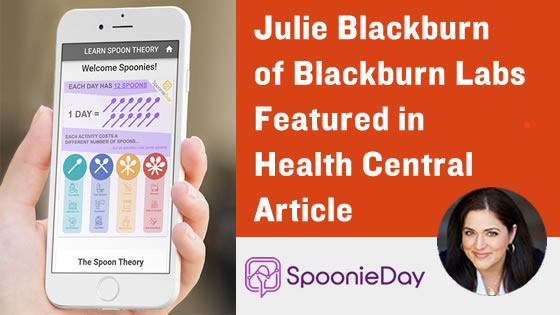 The Spoonie Day App draws inspiration from the "Spoon Theory" by writer and lupus patient advocate Christine Miserandino. The theory emphasizes the additional energy required by those with chronic conditions to perform everyday tasks. Julie's app not only helps users track the "spoonfuls" of energy expended on activities like making breakfast or working but also adds back "spoons" for self-care activities or when certain medications take effect.
Julie's journey with MS wasn't without its challenges. Initially, she found it difficult to connect with a supportive MS community. However, she discovered the MS Dream Center, a resource she highly recommends for its human touch and extensive offerings, including educational activities, workshops, therapies, and social events. As Julie mentions in the article, "It can be hard to find good resources that don't feel super canned and have the human touch, but this has been the resource I've found that's been different."
One of the highlights of the article is Julie's endorsement of chair yoga as a means to foster community, especially during the pandemic. It's a testament to her belief in the power of community and holistic well-being.
We are incredibly proud of Julie's achievements and her dedication to making a positive impact in the lives of those with chronic conditions. Her feature in Health Central is not just a recognition of her work but also a testament to Blackburn Labs' commitment to creating meaningful solutions.
For those interested in reading the full article and learning more about Julie's insights, visit Health Central.