Devless Gets the Startup Spotlight in The MongoDB Podcast
Robert Blackburn recounts to Mike Lynn how Blackburn Labs was founded as a software development agency and shares the fascinating backstory of why he created Devless – a no-code platform for building professional apps. Listeners learn about the embrace of the application's organic evolution, its use cases including some key features of Devless, and the team's technology stack which utilizes the flexible architecture of MongoDB.
As the conversation leans into how MongoDB is at the core of many software projects at Blackburn Labs, Rob uncovers the clear benefits that make it the obvious choice for scaling. Since it provides a foundation to evolve with ease, it allows the development team to quickly deliver custom features and improvements to an ever-expanding market of small business owners looking for a budget-friendly app builder that's "truly simple and developerless".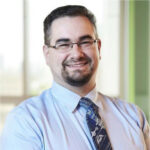 Start small. Get something basic out there – don't try to do it all at once….[G]et that to customers, and let your customers start telling you what you need to do next. That is always the best way."

Rob Blackburn
Chief Technology Officer (CTO), Co-Owner
Listening to Rob's experience as an entrepreneur is truly inspiring, and towards the end of the chat, he shares some valuable advice for anyone else looking to get into the business. Whether you're a software engineer, a developer advocate, or a business owner, Rob offers a wide range of takeaways in a short 20 minutes.
If you're curious to learn more, be sure to check out the podcast episode!
Listen to The MongoDB Podcast episode here: