Blackburn Labs Secures Another Tech10 Award Win
Rob Blackburn, CTO of Blackburn Labs, Celebrates Another Remarkable Achievement of Innovation and Excellence
In the ever-evolving landscape of technology and software consulting, Rob Blackburn showcased his exceptional prowess by clinching the prestigious Tech10 Award. This accolade, a collaboration between Rhode Island Monthly and the esteemed Tech10 Advisory Group, is a testament to his groundbreaking contributions at Blackburn Labs.
A decisive factor in earning this coveted award has been the insightful and multifaceted role played by Rob Blackburn. In a recent Q&A, Rob shared his dynamic job title and the intricacies it entails within Blackburn Labs. Collaborating with his wife, Julie (co-owner, industry-leading data scientist, and winner of the 2022 Tech10 Award), Rob navigates the direction of their software consulting firm with adaptability and finesse. Depending on the project or partnership, he seamlessly takes on roles such as CTO or CEO, ensuring consistent delivery of top-tier software solutions and valuable insights to their clients, like for Dedica Health.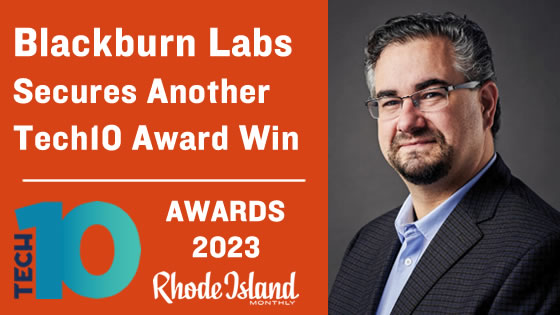 When asked about his inspiration for entering the tech industry, Rob reminisced about his fascination with technology from a young age. His journey commenced during his teenage years, as he experimented and pushed the boundaries of his Commodore 64. This early exposure fueled his passion for tech, leading to a career focused on creating solutions and solving real-world problems through code.
"I couldn't resist the urge to tinker with it, experimenting and pushing its boundaries. I found immense joy in creating fun tools and games. The ability to bring ideas to life and solve real-world problems through code was exhilarating. In fact, I might've occasionally used my Commodore 64 to tackle algebra homework faster, just to have more time for programming games, much to my teacher's chagrin. This early exposure and passion for tech naturally paved the way for my journey into the tech industry, and I've been hooked ever since."
Rob's forward-thinking approach is evident in the skills he is currently honing. He highlighted the recent advancements in computer science, particularly technologies like ChatGPT and LLM generative AI, as game-changers in problem-solving, particularly in healthcare. He envisions these technologies transforming how software engineers operate, akin to a significant shift in programming paradigms over the years.
"These incredible tools are going to revolutionize how we approach problem-solving, especially in sectors like healthcare. I believe that leveraging these technologies will enhance the efficiency of software engineers. I'm convinced that the way software engineers work today will be unrecognizable compared to how they will work in 10 years. The shift will be as significant as comparing the days of mainframe punch cards to modern-day programming IDEs. These tools are going to be a force multiplier in software engineering."
Beyond the tech realm, Rob finds solace in various hobbies. A self-professed nerd, he enjoys gaming on computers and tabletop for relaxation. However, nothing beats spending quality time with his wife, watching the iconic Star Trek series.
Rob Blackburn's favorite projects are a testament to Blackburn Labs' impact across various sectors. While healthcare projects hold a special place in his heart due to their direct contribution to saving lives, he also values the fulfillment of creating children's education software and social wellness apps. Each project brings its unique challenges and rewards, making every endeavor worthwhile.
In the Q&A, Rob reflected on the path not taken, expressing difficulty imagining a career outside the tech domain. Nevertheless, his unwavering passion has undoubtedly propelled Blackburn Labs to the forefront of the tech industry.
"… it's truly hard to imagine myself doing anything else. I'm one of those lucky people who found their calling quite young, and I'm grateful every day that I found this path."
Rob's success in securing the Tech10 Award for 2023 underscores his dedication to pushing technological boundaries and setting new standards within the sector. The Rhode Island community, his team, and partners appreciate his unwavering commitment to advancing technology for the greater good and eagerly anticipate the transformative impact his future endeavors will undoubtedly yield.